2. Administration
To add a new user:
– Select the Users Link and click Add User.
– Enter all of the information ensuring that the contact details are correct.
– Once all the details have been completed, select Create Item.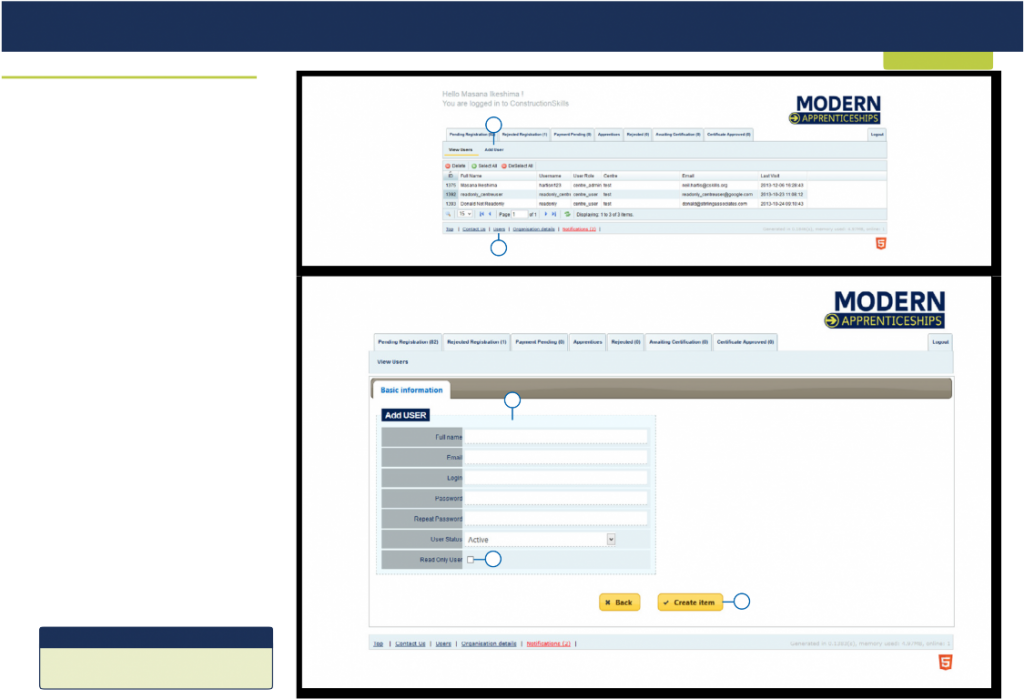 To edit an existing User:
– Double click on the username and amend the detail, then select Update Item.
There may be some organisations such as SDS that require access to MA Online 2 for monitoring purposes. In this case you will need to tick the box that says Read Only User when setting up a profile. This will allow the user access but they will be unable to amend any details on the system.
REMEMBER
Please note only admin logins can add and amend User details.
Within the MA Online system you are able to disable MA user accounts. This will keep the history of the user's activity but will mean that they no longer have access to the system. Only the Centre Admin person can make these changes – the Centre Admin is the person who has been issued the login details by the Certification Body.
To disable an account:
– Double click on the User to open the record
– Click on the drop down arrow next to User Status and select Inactive
– Click Update Item to save changes
If the Centre Admin access needs to be updated then you will need to contact the Certification Body who will be able to update the access.
This image shows where you can view the organisation details, such as the postal address and the appropriate contact person.
If there are any amendments required please contact the relevant Certification Body who will be able to make any amendments.